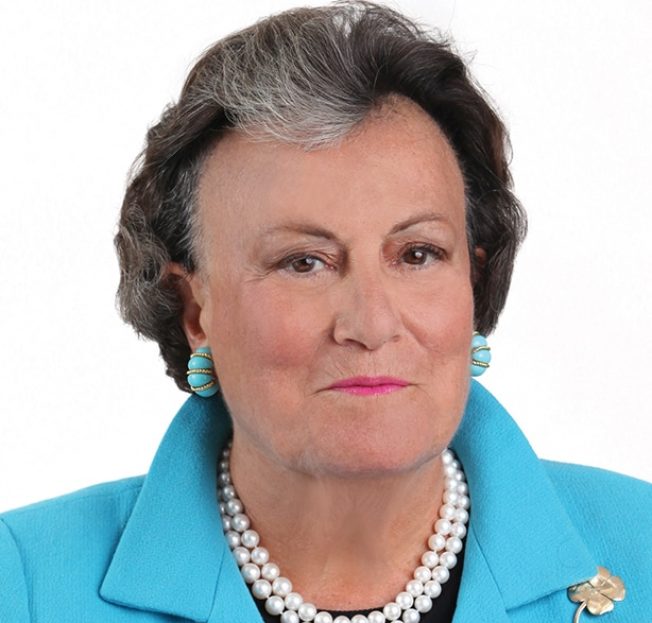 Joined the Board of Directors in May 2015
Governance Advisor, Atlantic Street Capital
Why I Support the Community Foundation
"As Ralph Waldo Emerson advised, 'Do not follow where the path may lead. Go instead where there is no path and leave a trail.' The Community Foundation provides trails for so many."
Joined the Board of Directors in May 2015
Community Foundation Involvement
Ms. Stautberg's roles and accomplishments specific to the Foundation so far. Ms. Stautberg has served as Co-Chair of the Governance Committee, as well as being a member of the Executive Committee; she currently serves on the Marketing and Community Engagement and Philanthropy Committees.
Susan Schiffer Stautberg works with companies on governance and obtaining the best directors. She is the president of PartnerCom Corporation, whose unique career spans the corporate, entrepreneurial, media, and nonprofit sectors, politics, and government. Ms. Stautberg became an entrepreneur with the founding of MasterMedia Ltd., producing more than 125 books. Earlier, Ms. Stautberg served as communications director for Touche Ross (now Deloitte & Touche), McNeil Consumer Products, and the U.S. Consumer Product Safety Commission. As a Westinghouse/GroupW TV correspondent covering the White House and Capitol Hill, she was the first woman and one of the youngest to head a Washington TV bureau. She then became the first TV journalist to be chosen as a White House Fellow, where she worked for Vice President Rockefeller and Secretary of State Henry Kissinger. Her firm, PartnerCom, assembles and manages advisory boards globally for businesses, governments, and nonprofits with a targeted focus on providing specific expertise unencumbered by the fiduciary responsibilities of a board of directors. She has served on or created the advisory boards for numerous organizations, including Amex Open, AMEC, Avis Rent-A-Car, Avon, Bank of America, Bayer Diabetes Care Division, CIGNA, Citigroup, Council on Competitiveness, Deutsche Private Bank, Flexjet, Goldman Sachs, Houlihan Lokey, Investment New Zealand, Merrill Lynch, Medtronic, Microsoft, Northern Trust, Northwestern Mutual, Procter and Gamble, STRATCO Global, Sun Trust/AMA, Swissotel, TIGER 21, The Times Centre for Learning (India), The United Nations, and Walmart. She is an influential and sought-after public speaker and author of seven books and numerous articles in the New York Times and the Wall Street Journal. Her work has been covered in the Financial Times, Business Week, USA Today, International Herald Tribune, the Sunday Times, Directors and Boards, and more. Susan's on-air interviews include The Today Show, CBS Evening News, and Oprah. She co-founded the Belizean Grove and the OnBoard Bootcamp. She also served as an adjunct professor at the Elliot School of International Affairs at George Washington University for three years.
Ms. Stautberg received a bachelor's from Wheaton College, holds a master's in public and international affairs from George Washington University, and completed Harvard Business School's Executive Education Program.
Community and Philanthropic Highlights
Ms. Stautberg believes "leaders give back" and supports the success of women globally, recently retiring as chair and co-founder of the WomenCorporateDirectors (WCD) Foundation
She served on the Commission on Presidential Scholars, U.S. Japan Fellowship, The Institute for Educational Affairs, The Defense Advisory Council on Women in the Armed Services, the White House Fellows Association, the C200, the International Women's Forum, and the Council on Foreign Relations
She is a board member of the SSS Leadership Foundation and actively involved in The Preservation Society of Newport County, where she chairs The Elms Committee, is a member of the Capital Campaign Council, served three terms as the Society's secretary of the board of trustees, and chaired both The Elms Centennial and Preservation Society's 60th Anniversary Committees
Her awards and honors include The Director's Choice Award, Visionary Empowerment Honoree by the Ovarian Cancer National Alliance, Purpose Prize Fellow, Women's E News' 21 Leaders for the 21st Century, the WCD Visionary Award for Strategic Leadership and alumnae awards from The Shipley School from Wheaton College (Honorary Doctor of Law)