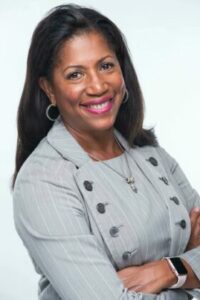 Community Foundation proudly announces Danita DeHaney Nias as its new President and Chief Executive Officer (CEO). A visionary thought leader with more than 20 years of experience in fundraising, strategic planning and institutional leadership in higher education, she succeeds Brad Hurlburt, who is retiring after seven years with the Foundation.
"Our board of directors is thrilled to introduce a leader of Nias' caliber to help guide the strategic direction of the Community Foundation," said Julie Fisher Cummings, board chair. "We are steadfast in our commitment to break barriers and make equity a cornerstone of everything we do. Nias brings a wealth of experience, expertise, enthusiasm, and most importantly, a passion for serving all people in our communities. She overwhelmingly possesses the qualifications and strategic acumen to help us grow into an even more successful organization and create a lasting impact in our area."
Prior to joining the Foundation, Nias served as the Vice President for Institutional Advancement and Chief Executive Officer of the FAU Foundation, Inc., at Florida Atlantic University (FAU). During her tenure, she helped catapult the university into a new era of excellence with record-breaking fundraising and spearheaded its second-ever comprehensive campaign (the first in 20 years). Leading a 58-person team, Nias oversaw all aspects of FAU's Institutional Advancement and Alumni Association activities.
"The Community Foundation is focused on promoting broader awareness of how philanthropy can offer leadership and support to address critical needs. With Nias' history of building community through a commitment to diversity, equity and inclusion, she has the essential qualifications and expertise to strengthen our organizational leadership and propel our mission," said Cummings.
Nias' unanimously approved appointment by the Board of Directors concludes an extensive national search encompassing hundreds of prospects.
Reflecting on the search, Cummings stated, "Working with Spencer Stuart, a national executive search firm specializing in CEO appointments for foundations and nonprofit organizations, the search committee reviewed a diverse group of candidates, including leaders from other community foundations. As we look to the future, we are confident that Nias is the right leader to help us elevate our first-rate donor relationships in a collaborative and inclusive way. It is clear that her experience and passions align with our commitment to build upon our stellar history of donor service and philanthropic excellence in our community."
Before joining FAU, Nias rose through the University of Florida (UF) ranks, the state's flagship institution. Over five years, she was promoted from alumni relations to external affairs, and finally to Senior Associate Vice President for External Affairs. She was responsible for a portfolio of major donors and prospects. She directed the national volunteer strategy to support UF's $3 billion campaign.
From 1995 to 2011, Nias held numerous senior-level positions at the University of Maryland, including Assistant Vice President for Development and Alumni Relations during the university's $1 billion campaign. She was Director of Athletics before pivoting her talents to fundraising. In addition to her higher education experience, Nias worked in private industry for 14 years at global giants Xerox Corporation and Learning International.
She earned a bachelor's degree in business with a concentration in personnel and labor relations from the Robert H. Smith School of Business at the University of Maryland and a master's degree in international relations from the Maxwell School of Citizenship and Public Affairs at Syracuse University. Currently, she is a Ph.D. student in business at FAU.
Nias will assume the role as President and CEO in March. Please join the board of directors in welcoming Nias to the Community Foundation.