Simplify your giving. Maximize your impact.
A Donor-Advised Fund (DAF) is a powerful way to elevate the impact of your philanthropy and strengthen your return on investment in the community.
Giving for Good just got easier.
Donor-Advised Funds are a simpler, more flexible and efficient alternative to creating a private foundation. You can contribute as often as you like and receive the maximum tax deductions allowed.
A Donor-Advised Fund can support the causes and communities that matter most to you, while the Community Foundation administers grants to your preferred charities (local or national). And the Community Foundation provides regular online statements about the performance of grants distributed from the fund.
Gifts to a Donor-Advised Fund can be made anytime or by bequest or planned gift. DAFs hold many advantages that make your philanthropy meaningful and easy.
Access our local experts to learn more about community needs to further your charitable giving strategy and goals.

Set-up is quick and easy with no minimums.

Receive full back-office support; the Community Foundation manages paperwork, donor-directed grantmaking and processes payments to your favorite organizations. 

Choose to be recognized or remain anonymous in your giving.

Leverage investment expertise and select from four portfolio options, including personalized options with your own investment manager to grow your charitable investments — which means you have more dollars to give.

Engage your children and relatives to preserve a family tradition of giving.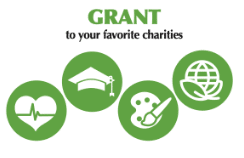 Grant
Make distributions from your fund to any of your favorite charities, anywhere and at any time. Use our online fund management tool, DonorCentral, to recommend grants from your fund, make gifts to your fund or research giving opportunities.
Financial Facts
A donor-advised fund can be established for any amount. Each fund is charged an administrative fee based on the type and size of investment. The administrative fee not only covers the cost of administering your fund, but it is also reinvested to support our mission in the local community.