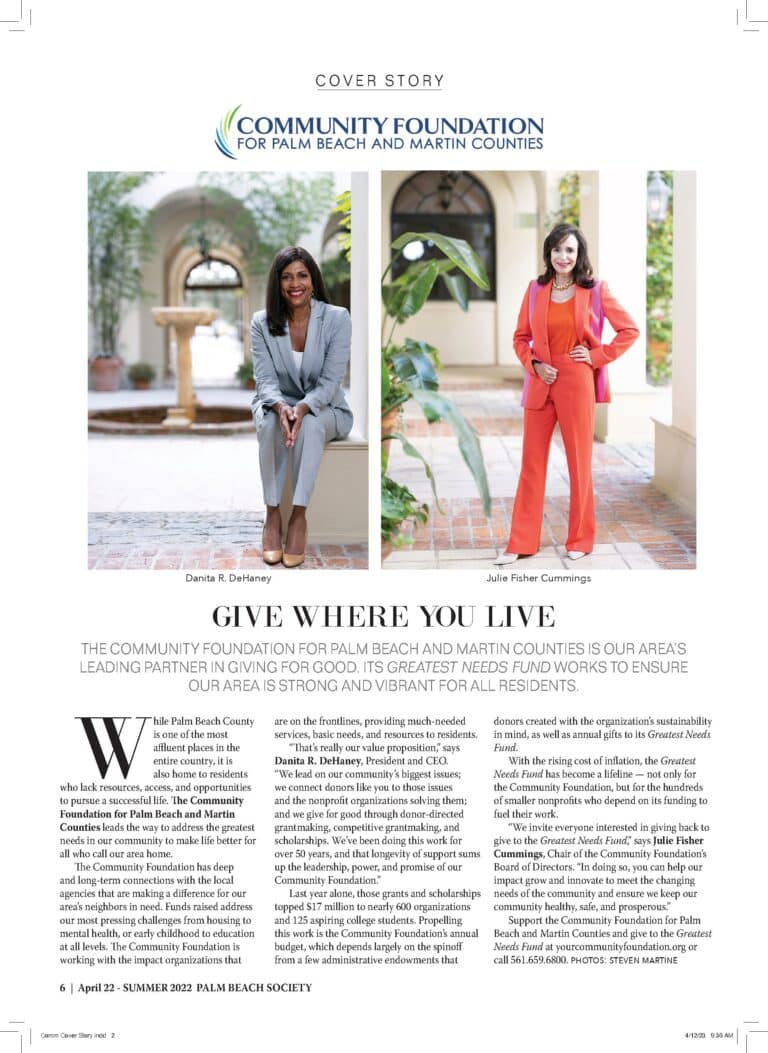 This story first appeared in the April 21, 2023 edition of Palm Beach Society Magazine
While Palm Beach County is one of the most affluent places in the entire country, it is also home to residents who lack resources, access, and opportunities to pursue a successful life. The Community Foundation for Palm Beach and Martin County leads the way to address the greatest needs in our community to make life better for all who call our area home.
The Community Foundation has deep and long-term connections with the local agencies that are making a difference for our area's neighbors in need. Funds raised address our most pressing challenges from housing to mental health, or early childhood to education at all levels. The Community Foundation is working with the impact organizations that are on the frontlines, providing much needed services, basic needs, and resources to residents.
"That's really our value proposition," says Danita R. DeHaney, President and CEO. "We lead on our community's biggest issues; we connect donors like you to those issues and the nonprofit organizations solving them; and we give for good through donor-directed grantmaking, competitive grantmaking, and scholarships. We've been doing this work for over 50 years, and that longevity of support sums up the leadership, power, and promise of our Community Foundation."
Last year alone, those grants and scholarships topped $17 million to nearly 600 organizations and 125 aspiring college students. Propelling this work is the Community Foundation's annual budget, which depends largely on the spinoff from a few administrative endowments that donors created with the organization's sustainability in mind, as well as annual gifts to its Community Foundation Fund.
With the rising cost of inflation, the Community Foundation Fund has become a lifeline — not only for the Community Foundation, but for the hundreds of smaller nonprofits who depend on its funding to fuel their work.
"We invite everyone interested in giving back to give to the Community Foundation Fund," says Julie Fisher Cummings, chair of the Community Foundation's Board of Directors. "In doing so, you can help our impact grow and innovate to meet the changing needs of the community and ensure we keep our community healthy, safe, and prosperous."