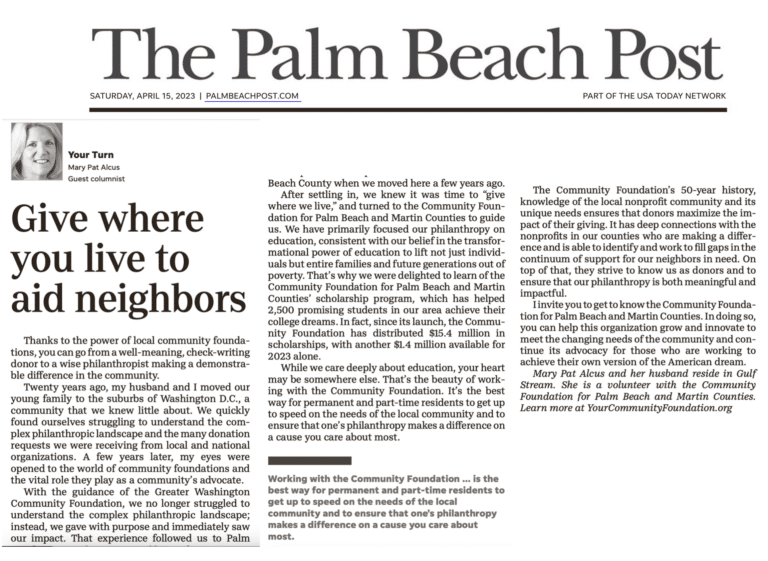 This article originally appeared in the Palm Beach Post on April 15, 2023
Thanks to the power of local community foundations, I went from a well-meaning, check-writing donor to a wise philanthropist making a demonstrable difference in the community.
Twenty years ago, my husband and I moved our young family to the suburbs of Washington D.C., a community that we knew little about. We quickly found ourselves struggling to understand the complex philanthropic landscape and the many donation requests we were receiving from local and national organizations. A few years later, my eyes were opened to the world of community foundations and the unique and vital role they play as the community's strongest advocate.
My family became deeply rooted in the Greater Washington Community Foundation, serving on the board, chairing committees and leading fundraising campaigns. With its guidance, we no longer struggled to understand the complex philanthropic landscape; instead, we gave with purpose and immediately saw our impact. That experience followed us to Palm Beach County when we moved here a few years ago.
After settling in, we knew it was time to "give where we live," and turned to the Community Foundation for Palm Beach and Martin Counties to guide us. We have primarily focused our philanthropy on education, consistent with our belief in the transformational power of education to lift not just individuals but entire families and future generations out of poverty. That's why we were delighted to learn of the Community Foundation for Palm Beach and Martin Counties' scholarship program, which has helped 2,500 promising students in our area achieve their college dreams. In fact, since its launch, the Community Foundation has distributed $15.4 million in scholarships, with another $1.3 million available for 2023 alone.
While we care deeply about education, your heart may be somewhere else. That's the beauty of working with the Community Foundation. It's the best way for permanent and part-time residents to get up to speed on the needs of the local community and to ensure that one's philanthropy makes a difference on a cause you care about most.
The Community Foundation's 50-year history, extensive knowledge of the local nonprofit community and its unique needs ensures that donors are able to maximize the impact of their giving. It has deep connections with the nonprofits in our counties who are making a difference and is able to identify and work to fill gaps in the continuum of support for our neighbors in need. On top of that, they strive to know us as donors and to ensure that our philanthropy is both meaningful and impactful. And as a public charity, the Foundation can offer donors tax deductions that are often superior to those accorded to private foundation donors.
For these reasons, I invite you to get to know the Community Foundation for Palm Beach and Martin Counties. In doing so, you can help this vibrant organization maintain its standard of excellence, grow and innovate in order to meet the changing needs of the community, and continue its advocacy for those who are working to achieve their own version of the American dream. I hope our story inspires you to become an advocate for our beautiful community and to encourage more well-meaning donors to transform into wise philanthropists who "give where they live." 
Mary Pat Alcus and her husband reside in Gulf Stream. She is a volunteer with the Community Foundation for Palm Beach and Martin Counties.