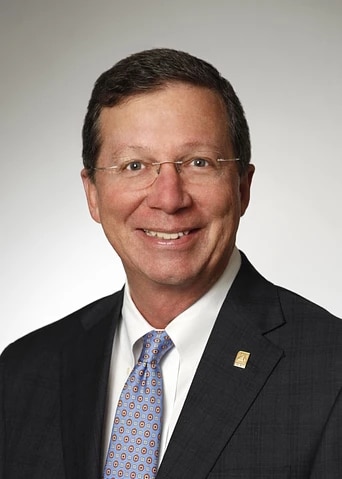 THE STALWART OF STUART


Supporter: Dennis "Denny" S. Hudson III – Director, Seacoast Bank

Hometown: Stuart, Florida

Community Foundation Connection: Board member since 2016; current Treasurer of the Board; Chair of the Finance Committee

Community Foundation Fund: The Denny & Wendy Hudson Charitable Fund
In his 20s, an exchange with a bus driver changed Denny Hudson's view of philanthropy forever. Early in his career at Seacoast Bank and newly elected campaign chair for the local United Way, Hudson organized a half-day tour to visit the organization's grantees in Martin County to help clients get to know the community better.
At the end, the driver stopped, grabbed the mic, and told the group how he'd been down on his luck — homeless — and one of the nonprofits they'd just visited had provided him with a place to stay, food, clothing, and ultimately helped him get the bus driving job two years earlier.
"It was a surprise, seminal moment that cemented for everybody on that tour how what we do as donors makes a difference," says Hudson. "I was hooked. When I was asked to join the Community Foundation's Board years later, I was equally enamored with the work we do — not just raising money but connecting with the communities and people we serve."
Generations have grown up with Seacoast Bank with Hudsons at the helm. His grandfather moved to Martin County nearly 100 years ago with the bank and understood immediately that he needed to support the local community to create loyal customers in return.
"You had to be close to the community, to know both who needed help and who could help because those connections kept us safe and uplifted us all," he says. "I have attended memorial services for customers where the third generation said had it not been for my grandfather taking a chance, their family wouldn't have the successful business it has today. That is an incredible connection, and it's the same philosophy that drives the Community Foundation."
Hudson was recruited to the Board of Directors by former Chair Sherry Barrat, who insisted he lend his leadership in support of Martin and Palm Beach Counties. His former Stuart neighbor and friend for over 40 years Julie Fisher Cummings, Immediate Past Chair, led through Hudson's second term. And he is energized for his last term thanks to the acumen and community commitment of current Chair Jeff Stoops.
"I'm excited about the future for our community with this organization, and the reason I say that is the staff and the leadership have a connection to what they are doing that transcends their jobs," Hudson says. "For me, there's no better way to give than to a foundation that will be here long after you and I are gone. In 100 years, the community and its challenges are bound to be different, but the Community Foundation will be here to keep us connected."