See the Northwood Academy's 2020 Summer Impact, as featured in the Community Foundation's 2019-2020 Annual Report.
Mission
Transforming teaching and learning through creativity and the arts.
Vision
To be a leader in transforming educational environments and systems to better prepare students to meet the challenges and opportunities of the 21st century with courage and confidence.
History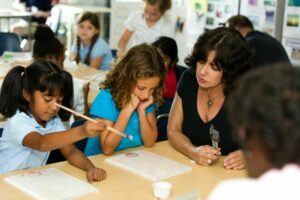 In the early 1990s, the Cultural Council of Palm Beach County raised the alarm about the countywide trend to defund arts education in schools. They commissioned research funded in part by the MacArthur Foundation and the Chastain Charitable Foundation that led to the establishment of a non-profit, 501(c)(3), corporation called the Center for Creative Education (CCE) in 1995. CCE was formed for:
"…the advancement of education and other charitable purposes, and particularly for the enhancement of tax supported public education, and the specific and primary purpose for which this corporation was founded" (CCE's Articles of Incorporation, 1995)
CCE could not replace those teachers in music, visual arts, dance and theater. Our innovative solution was to help community artists restore creativity to these classrooms by integrating the arts into core curriculums. CCE transformed artists into "teaching " artists who collaborated with classroom teachers to demonstrate how creativity and the arts could benefit the learning process for all students. This collaborative, professional development model continues to be one of the most impactful advancements that CCE has given to the School District of Palm Beach County.
Overview
Today, the Center for Creative Education (CCE) delivers arts education programming to thousands of students districtwide, 90% of whom attend Title 1 schools. Our programming continues to innovate around using the arts to enhance student learning in other subjects.
Arts for Literacy‑We serve approximately 1,000 students in 54 kindergarten, first and second grade classrooms within the School District of Palm Beach County (SDPBC).
Creative Arts Designed to Reinforce Education (CADRE) - We serve nearly 7,000 K-5 students through afterschool programming in recreation centers, churches, and other community sites across Palm Beach County.
Media Arts - We serve 80 middle and high school students per year at our computer center.
Northwood Academy - We currently host up to 100 students in an academic and arts integrated afterschool and summer camp program here at the center.
Our high quality programming is made possible by our strong fiscal management. For the 4th year in a row, we have received Charity Navigator's highest 4-Star rating. This perfect score identifies us as a fiscally responsible organization adhering to good governance and other best practices that minimize the chance of unethical activities. Less than 1% of charities rated by Charity Navigator have earned perfect scores. Last year, we received funding from 136 private donors, many charitable foundations, annual fundraising events and an array of city, county, state and corporate grantors.
Visit the Center for Creative Education's website HERE.
If you are considering making a bequest to the Center for Creative Education Endowment Fund of the Community Foundation for Palm Beach and Martin Counties, we recommend the following language:
Bequest Language
I hereby give, devise and bequeath _________ and No/100 dollars ($DOLLARS)... OR
I hereby give, devise and bequeath ____ percent (___%) of my total estate, determined as of the date of my death,...
...to the Center for Creative Education Endowment Fund of the Community Foundation for Palm Beach and Martin Counties, a nonprofit organization located at 700 S. Dixie Highway, Suite 200, West Palm Beach, FL, 33401.
If you would like information about other ways to give, including gifts that provide you with immediate tax deductions, income for the rest of your life and preferential treatment of capital gains taxes, click HERE or call the Foundation at 561-659-6800.