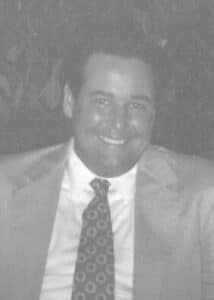 Chris went to college at Appalachian State University in Boone, North Carolina. Following his graduation in 1989, he worked for the Murphy family's construction company in West Palm Beach. A certified commercial real estate appraiser, he later spent time with Johnson & Parrish Appraisal Firm and Callaway & Price, Inc. in West Palm Beach. He had the opportunity to work on significant projects in downtown West Palm Beach, Delray Beach, and elsewhere – frequently expanding his network of friends in the process. He died unexpectedly at the age of 33, and he is remembered for his boundless energy, humor and passion for life.
"I remember Chris, always, as that cherub-faced little boy who would stare up at you with soft brown eyes full of hope and wonder. He brought that with him as he became a man, adding to it love, humor, and compassion. Now, combine that with his grin – not just a smile, but a full-beam grin – and he would slay you … every time! Almost like he knew the punch line to the big cosmic joke."
Chris was fully realized. There was nothing lacking in his life, his heart, his soul. He is greatly loved and is already dearly missed. "
THERESA DZMITROWICZ
"He was the glue that kept all the rest of us together, " says Mary Murphy, whose older brother, Martin, was Chris' classmate from kindergarten through their graduation from Cardinal Newman High School. An only child, Chris "considered us his brothers and sisters. He was always with us, " she adds.
In fact, says Martin Murphy, "Chris had more circles of friends than anyone could ever imagine. He just loved being around people. He was a real gregarious person. Everyone felt he was their best friend. "
"He loved to meet new people, " adds Mary Murphy. "He could always find something good about someone, and he was always there to talk to you. He really listened. He was a great friend to everyone. "
"He was always having fun, " she continues. "He could always make you laugh. He was an unbelievable person. "
"I think about him all the time, " Martin says. "This fund is a way to keep his name in circulation, especially for people who just got to know him. "
"Chris was a unique person. He was always good hearted, " states Mary Murphy. It's a total loss to everyone that we don't have him with us. "